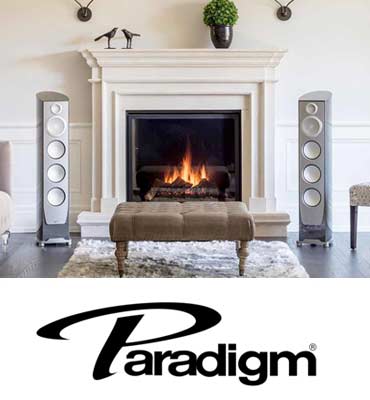 The singularity of science, design, and technology reveals a new Paradigm of audio performance. With patented innovations, proprietary materials, and in-house Canadian manufacturing, today's Paradigm makes a bold, luxurious statement, bringing music and home cinema to life. All their subwoofer series can be used with Paradigm speakers or other brands.
Subwoofer Series
Paradigm has eight series of subwoofers engineered to match their speaker series: Persona, Prestige, Millenia, Signature, Defiance, Seismic, Cinema and Custom Install line.
The Defiance Series is specifically engineered to integrate well with other brands and offers a wireless kit with a Paradigm subwoofer Smartphone control app making setup easier and most importantly, blending or integrating the bass output with your speakers, far more simple and accurate.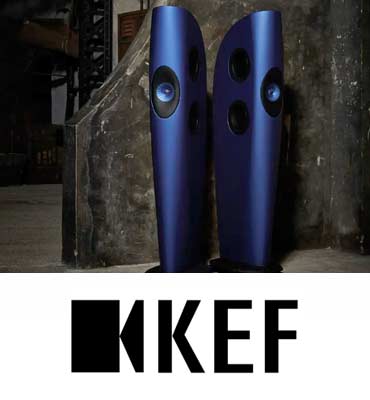 From the very beginning, the pioneering inventiveness of KEF loudspeakers was undeniable and now for several decades, audiophiles around the world have revered KEF for its innovative, high-performance loudspeakers. KEF's research legacy includes contributions from some of the greatest and most respected loudspeaker designers of the last five decades.
Subwoofer Series
KEF offers four series of subwoofers: Reference Series, Kube Series, the new KC Series, Slimline Series and the Custom Integration or Ci Series.
All the KEF subwoofers perform well, and both the Kube and KC have a wireless capability and KEF Smartphone app. The wireless Kit with a KEF subwoofer Smartphone control app makes setup easier and most importantly, blending or integrating the bass output with your speakers, far more simple and accurate.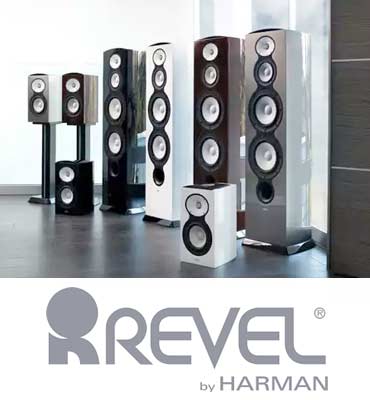 At Revel, science is at the heart of everything we do. While the rest of the industry focuses on shallow aesthetics, our engineers are busy in the lab perfecting the audio accuracy of our products. Since our very first loudspeaker, we obsessively test every element so you get the most out of every product. The result is music produced with the utmost purity — music that's played the way the artist intended.
Subwoofer Series
Revel offers four series of subwoofers: Concerta Series – B1, the Concerta2 Series – B8, B10, the Performa3 Series – B110v2, V112v2, and the Architectural Series, B28W in-wall powered by the SA1000 amplifier.
All of the Revel drivers are built in house with custom tailored crossovers for each model. The Revel subwoofers feature drivers that are exceptionally robust. Performance is powerful, deep and accurate and integrates extremely well with Revel speakers.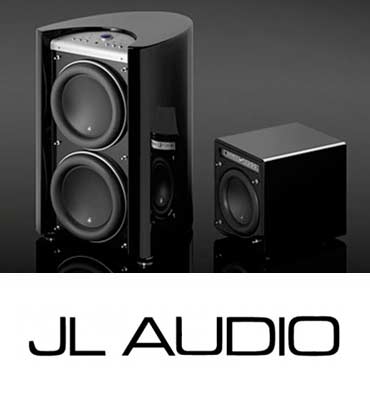 Subwoofers are an essential part of any great audio system—stereo or home theater. They also are JL's specialty. Within each model is a specifically engineered subwoofer driver and an optimized electronics package with unique JL Audio technologies.
From the diminutive d108, to the awe-inspiring Gotham V2, JL Audio's in-room powered subwoofers have received the highest accolades from audio reviewers and demanding audiophiles around the world. Audition the JL Audio award-winning lineup at our store and hear the difference a superior subwoofer can make.
Subwoofer Series
JL Audio offers six series of subwoofers: Gotham V2, Fathom V2, Fathom ICS & IWS, E-Sub and Dominion Series.
JL Audio's freestanding line is second to none. The Gotham V2 sets one of the highest performance bars, while the Fathom V2 and the E-Sub line have earned a strong following by consumers by delivering incredible performance at their price-point. The new Dominion line extends the JL Audio line of extraordinary performance into a more attainable price range. JL Audio also offers the Fathom Series in-ceiling subwoofers or ICS and the Fathom in-wall or IWS subwoofers. Collectively, JL Audio is regarded as one of the most respected subwoofer manufacturers in the world.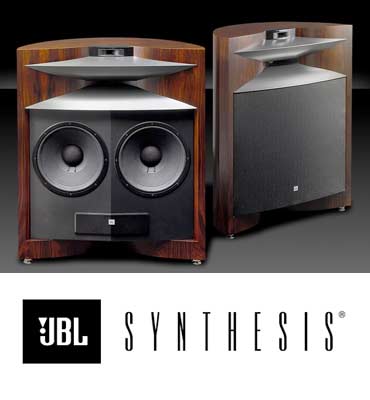 Drawing upon the heritage of the JBL® brand, JBL Synthesis® systems combine the most advanced signal processors, equalizers, amplifiers and loudspeakers to create the most realistic listening experience possible in rooms of any size.
JBL Synthesis systems combine the most advanced components, loudspeakers and room tuning to uniquely meet the performance criteria for an uncompromised cinema and music experience in any size room. Drawing from our lineup of products, we are able to provide a variety of pre-engineered solutions that perform with exceptional sonic accuracy from small media rooms to large dedicated home theater systems with accurate, consistent tonal quality and impactful dynamic range.
Subwoofer Series
JBL Synthesis offers two series of subwoofers: Their in-wall Series, and the new HDI Series.
The JBL Synthesis line of subwoofers is primary focus is to be used with the Synthesis line of in-wall and in-ceiling speakers. The in-wall subwoofers are substantial and engineered to be capable of handling 2,500 watts of power. The can deliver a staggering amount of bass without distortion at high levels. Power, depth and control characterize the JBL Synthesis subwoofers in-wall subwoofers.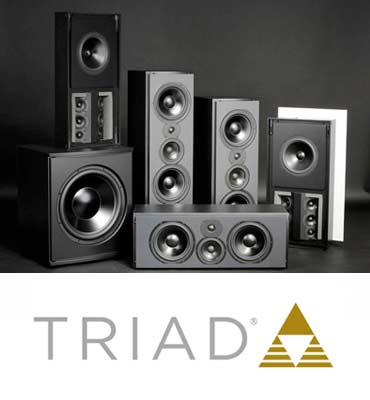 Beauty is in the eye. The ear. And even the soul. It is sound you don't just hear, but feel. Sound that inspires and moves you. Sound you love.
Triad is the world's first manufacturer to build fully custom speakers to satisfy the most discerning audiophiles and interior designers alike. With three decades of innovation and refinement, our speakers represent the pinnacle of acoustic excellence and bespoke quality, individually tailored to each installation.
Subwoofer Series
Triad offers essentially two categories of subwoofers, their custom installation models, and freestanding models. The custom installation series: InRoom Series, InWall Series,InCeiling Series, OnWall Series, and FlexSub Series. The freestanding models: InRoom Bronze, Silver and Gold offer different performance levels and different driver and amplifiers.
Triad is one of the pioneers of custom installation speakers, and their subwoofers set high levels of build quality, performance and authority. The custom installation line offers the buyer many options to configure or situate subwoofers, especially in cramped, uniquely shaped rooms or spaces that provide less than ideal locations to properly place or situate a subwoofer.
A Guide to KEF Subwoofer Setup
by KEF Speakers
How To Series
A Guide to KEF Subwoofer Setup
Simplicity of the KEF Setup
The KEF subwoofer app sets a new level of simplicity and control. Similar parameters and ease of use are provided by the Paradigm Defiance ARC Smartphone app and JL Audio with their one-touch DARO process.